Summer Wrap-Up: The Best of 2017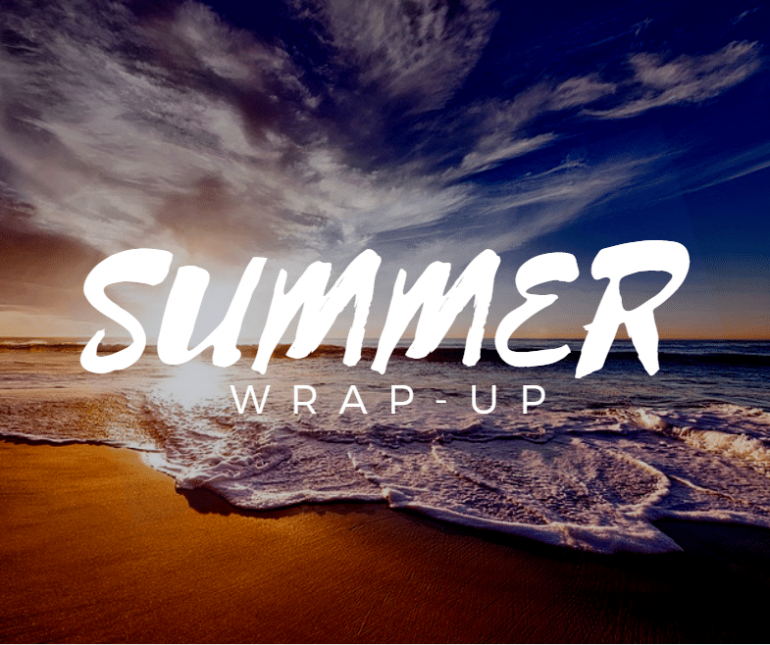 Seems like Summer 2017 flashed right before our eyes, right? Well, our LIFE+ blog has plenty of summertime blogs for us to reminisce on!
The CBPT team contributed to a wide range of topics from  pain relief tips, healthy recipes, fitness & exercise tutorials, injury prevention pointers, and wellness tips! 
Here's a recap of our favorite summer moments that will get you reminiscing about the fun summer season!
Enjoy Life Pain Free!
Pain relief tips educate us on how to alleviate pain and live life pain-free.
Did you know that low back pain is one of the most common types of pain patients come to physical therapy for?
Kimmi Dao, PT, DPT provided us with some awesome stretches to relieve your back while on vacation.
Jason Wong, PT, DPT showed us exercises to combat low back pain and also strengthen your core! Talk about double-duty!
ACL tears are also common among people who play summer sports, so it's best to be prepared on what to do if you injure yours!
Faith Rea, PT, DPT discussed how to diagnose an ACL injury and the important steps to take if you think yours may be injured.
Christina Yu PT, DPT gave us better insight as to whether or not fixing a torn ACL is actually necessary (the body has an incredible way of healing itself—cool, huh?)
Satisfy those summer tastebuds year round!
Healthy eating is important to living a long and healthy life. Take a look at these healthy, nutritious, & DELICIOUS summertime recipes from our very own physical therapists!
Christina Yu, PT, DPT showed us how easy it is to make delicious and healthy zucchini fries.
Heather Takahashi, PT, DPT took us through a hot summer day with some refreshing summer beverages and tasty summer picnic snacks.
Robin Bewley, PT, DPT, OTR/L, MOT modified our favorite food and made it super healthy and tasty– aka guilt-free PIZZA!
Faith Crary, PT, DPT gave us a variety of recipes for the first, and most important meal of the day.
Let's get fit!
Physical fitness is important year-round, but even more so during summer! With longer days and the temperature just right, summer workouts are a recipe for fun and fitness. Here are exercises our physical therapists designed just for you!
Nicholas DeMonaco, PT, DPT created a workout for new dads with his own little one!
David Weberg, PT, DPT, OCS gave us exercise tips on how to workout during our summer travels.
Christina Yu, PT, DPT knew that working out with a buddy is a great way to have fun and get fit in her blog.
Danielle Fleming, PT, DPT, CSCS showed us how to get a productive workout in during the work lunch hour.
Injury Prevention
Injuries can prevent us from doing what we want, when we want to. And what can be worse than having an injury while everyone is out having some fun in the sun? Luckily, our physical therapists want to help!
Our LIFE+ TV video shows us how to have proper spine alignment to prevent serious back injury.
Jon Ebert, PT, DPT showed us how important it is to have proper posture while playing those summer tunes.
Christina Yu, PT, DPT informed us on preventing concussions during summer activities.
Patrick Lewis, PT, DPT illustrated how warm-ups drastically (and positively) affect sport performance!
Check them out!
Be well with these wellness tips!
In order to live a long healthy life, we need to educate ourselves with tips that will help us in all our life stages.
Believe it or not– squats require healthy ankles! Sharon Ho, PT, DPT explains the need for good ankle health for a good glute workout.
Heather Takahashi, PT, DPT toured us around the best hiking trails in Orange County.
Taylor Rossi, PT, DPT explained how walking benefits our health in more ways than we think.
As we get older, Christina Yu, PT, DPT showed us the importance of keeping an active lifestyle
Patrick Lewis, PT, DPT showed us how to physically and mentally rebound from an injury.
Think you may have broken a bone? Faith Crary, PT, DPT explains whether you should get an x-ray or MRI. She also gives us tips on how to get a better night's sleep!
And if you thought there's only one way to treat an injury Robin Bewley, PT, DPT, OTR/L, MOT shows us how Pilates is also an effective form of treatment.
Comment below your favorite blog this season!
Have you subscribed to LIFE+ yet?
Start getting health tips delivered straight to your inbox!
Take the Next Step!
Have a pain-free fall! Sign up for a free assessment!
The following two tabs change content below.
LIFE+ is a multimedia platform designed with you in mind. Each week our experts will provide valuable information to help you enjoy your life free from pain or limitations along with pursuing a healthy life.