Summer Wrap Up: The Best of Summer 2016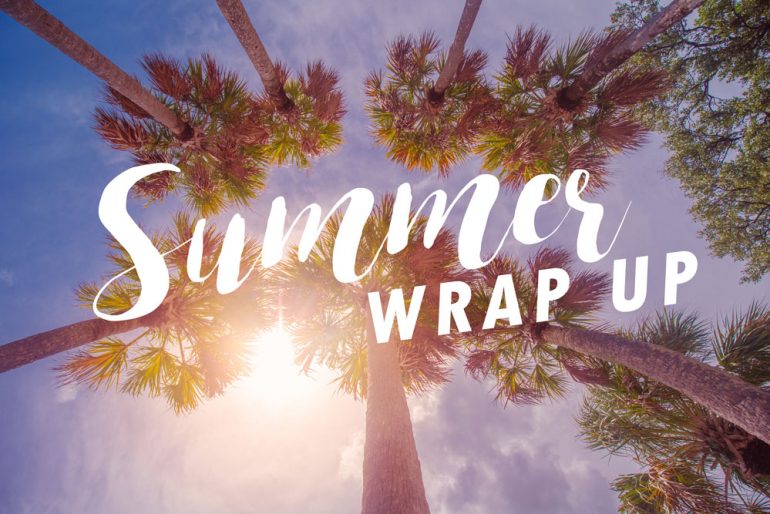 Summer 2016 brought with it some "hot" blog posts on Life+.
The CBPT team contributed to a wide range of topics from healthy & delicious recipes to pain relief  and injury prevention tips. 
Here is a recap of our favorite summer moments and blogs that will help get you ready to live life pain-free for the next season!
Everyday Injury Prevention
Summer is a time to be active and explore new grounds! However, injuries can prevent us from doing what we want, when we want to. Luckily, Kimmi Dao, PT, DPT, CSCS and Life+ TV shared some awesome injury prevention tips that will help you live life without any limitations.
Kimmi Dao, PT, DPT, CSCS highlighted 5 things you can look for when choosing the perfect pair of running shoes! She also gave us 6 tips on how to get rid of those horrible tension headaches.
Life+ TV gave us a tutorial on a dynamic warm-up you should do before you start your workout routine.
Sports Injury Prevention
Summer is all about playing those summer sports out in the hot, hot sun! Fortunately, Scott Locken, PT, DPT, Camille Sepina, PT, DPT, Alex Mersch, PT, DPT, and Greg Van Camp, PT, DPT, ATC provided us with some awesome sports injury prevention tips that will leave you in the sun all summer long!
Scott Locken, PT, DPT gave us some very important tips on how to prevent hamstring strains while playing soccer!
Camille Sepina, PT, DPT showed us the health benefits of doing a full squat.
Alex Mersch, PT, DPT challenged us to add valslides to our next workout routine.
Golfers often forget the athleticism & fitness required for golfing. Greg Van Camp, PT, DPT, ATC shared with us how flexibility and balance can help your swing and lower your scores!
Pain Relief
Pain relief tips educate us on how to relieve pain and live life pain-free.
Did you know that pillows can help with spine pain? Jamie Lambert, PT, DPT, CSCS gave us tips on how the way you sleep affects your spine.
Byanca Madrigal PT, DPT provided us with some incredible sitting exercises to do while you are on your commute to work.
Life+ TV explained the common causes of low back, knee, and mid-back & rib pain. Towards the end of the video, Life+ TV showed us some simple exercises you can do to help relieve those pains.
Wellness Tips
In order to live a long healthy life, we need to educate ourselves with tips that will help us in all our life stages.
Brandon Buehler, PT, DPT, OCS shared with us how redefining our health means we are living on a purpose.
Rebecca McCloskey, PT, DPT provided us with tips on how you can help your child achieve their pediatric milestones.
Discover out how you can properly assess your pain or injury on Google from the blog that Alex Mersch, PT, DPT shared. Also, check out his blog on popular phone applications that will help you achieve your health goals.
Have you ever wondered about the pros and cons of taking opioids or receiving physical therapy? Camille Sepina PT, DPT explains it all in her blog.
Fall means that it is Back-to-School season. Learn how you can prevent backpack pain from Roland Dulla, PT, DPT, OCS.
Angelo Urquico, PT, DPT, OCS, CFMT, CSCS gave us important information of latest research done on chronic pain.
Healthy, Nutritious, & Delicious!
Healthy eating is important to living a long and healthy life. Take a look at these healthy, nutritious, & DELICIOUS recipes from our very own physical therapists. You won't be disappointed!
Laura Kellen PT, DPT, ATC shared with us her go-to healthy quinoa salad recipe that is easy-to-make and delicious!
Are you missing something from your diet? Get your fruit and vegetable fill with this Beet & Ginger Juice recipe from Melissa Urrutia, PT, DPT, OCS.
Who doesn't like a healthier version of fried chicken? Try this Peanut Crusted Chicken recipe by Nick Demonaco, PT, DPT.
Are you signed up for Life+?
Start getting health tips delivered straight to your inbox!
Take the Next Step!
Have a pain-free summer! Sign up for a free assessment!
The following two tabs change content below.
LIFE+ is a multimedia platform designed with you in mind. Each week our experts will provide valuable information to help you enjoy your life free from pain or limitations along with pursuing a healthy life.